File Translators
Specialty data translators for UG/NX, Pro/E, and CATIA ensure you can read and use the files you need.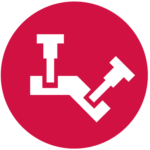 Multiaxis
Improve your productivity with simultaneous 4- and 5-axis machining capability for Mastercam.
5-axis Drilling and 5-axis Curve Machining
Two targeted, powerful multiaxis techniques that add extra flexibility to your milling and can be easily upgraded to the full Multiaxis product.

Mastercam Productivity+
Brings Renishaw in-process probing and inspection to your Mastercam programs. Easily set up, validate, and even make in-process adjustments where appropriate.

Schedule a Demo Today
Contact us today to learn more about how Mastercam can help your shop save time and money.
We'd Love To Hear From You!

Fill out the form and our team will be in touch with you promptly. Thank you for your interest!
The Team at Cimquest
sales@cimquest-inc.com
Mastercam Interest
Fields indicated with an * are required.