Mastercam's Dynamic Motion and Accelerated Finishing – a powerful combination
Mastercam's embedded Dynamic Motion technology dramatically shortens production times while extending the life of your machine and tools. Mastercam Mill is rich in features yet still simple and intuitive to use. Dynamic Motion carves out massive amounts of material quickly while dramatically extending tool life — which immediately puts more money in your pocket. And with vendor-specific tool support and Mastercam's new Accelerated Finishing, your projects come off the machine faster and finer than ever before.
2D Machining
Your daily needs for 2D machining can range from simple to very complex. Mastercam Mill delivers the tools you need.
Feature Based Machining (FBM) automatically programs
prismatic solids drill holes, contours, and pockets.
Complete and easy control of approach, start points, and
entry methods.
Contour and pocket remachining use smaller tools to automatically clean out material left from previous operations.
Precision chip control for a wide set of tools, plus specialized tool support including ISCAR®'s High Efficiency Machining (HEM) tool set and more.
Dynamic Motion powers much of our 2D suite, constantly adapting to create smoother, safer motion and making better use of the entire tool.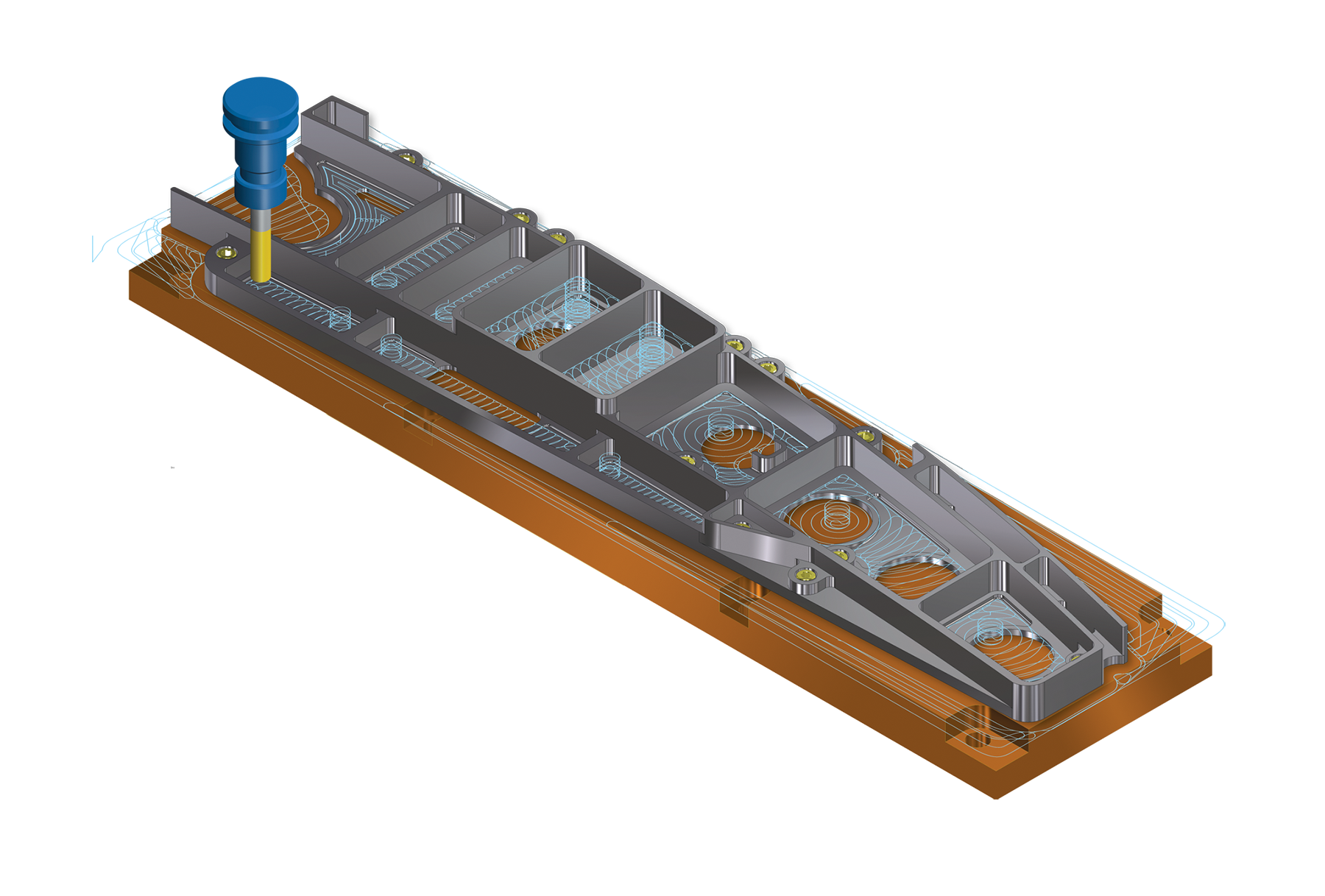 Our Finish is More Finished
3D Machining
Mastercam provides unsurpassed control on surface cuts, delivering superior finishes and optimized cycle times. our refined 3D toolpaths give you a smooth, precision finish to please even your toughest customers.
Cut multiple surfaces, solid models, and STL data.
Dramatically efficient roughing powered by Mastercam's Dynamic Motion technology.
Constant scallop machining maintains a consistent finish on sloped and flat surfaces alike.
Constant-Z rest milling (remachining) identifies and machines areas to be cut with a smaller tool.
Hybrid finishing creates a single toolpath that changes cut methods as the slope of the model changes.
Pencil tracing walks a tool along the intersection
Multiaxis Machining
With Mastercam, you have complete control over the three crucial elementsWith Mastercam, you have complete control over the three crucial elements of multiaxis machining: cut pattern, tool axis control, and collision avoidance.
From 4-axis rotary and roll-die cutting to multiblade impellers with tight internal cuts, Mastercam helps simplify even the most complex jobs. Other highlights include:
Multisurface 5-axis roughing and finishing (including depth cuts), plunge roughing, and flowline machining.
Swarf machining over multisurface floors.• Advanced gouge checking, a "safe zone" around the part, and safe linking between operations.
Fast, simple 5-axis trimming and stock-aware drilling.
Ability to create full 5-axis motion from a 3-axis toolpath.
For specialty machining, ask about these available Add-Ons:
Mastercam Blade Expert for multi-bladed parts and hubs.
Mastercam Port Expert for head ports and tube-type applications.of surfaces to clean out hard-to-reach areas.