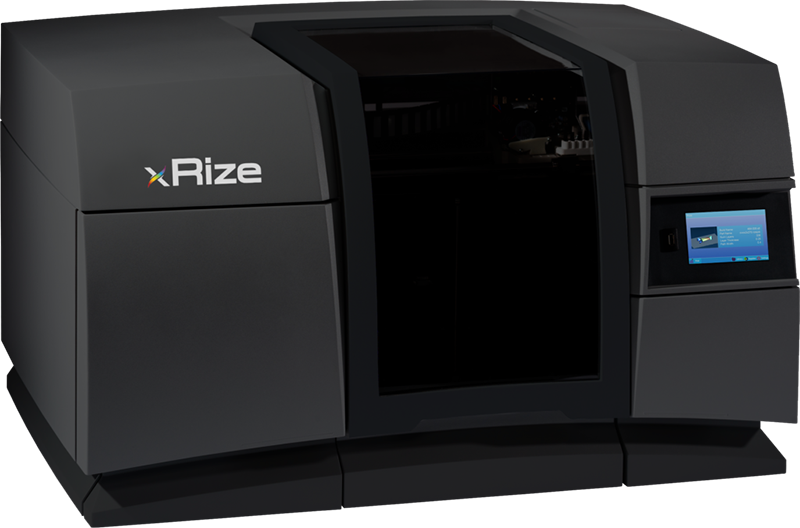 XRIZE 3D Printing System:
Industrial Material Extrusion System

Carbon and Color

Industrial Material Jetting System for Release and Full-Color CMYK Inks

Heated Build Chamber

Hot Swap

Software: RIZE ONETOUCH and RIZE CONNECT
VERSATILE MULTI-MATERIAL INDUSTRIAL SOLUTION
RIZE's versatile enterprise technology platform redefines additive manufacturing, making it easy and safe for all users while providing industrial-strength parts suitable for functional prototyping, tooling, and end-use applications. RIZE's intelligent and innovative solutions focus on the user as much as the machine. And, our technology enables much-desired IP security for companies.
Augmented Deposition, our unique and patented hybrid of industrial material extrusion and material jetting, makes all of this possible. By jetting a specially formulated release agent between layers of extruded material, support structures are quickly, easily and cleanly removed, while maintaining a superior finish on supported surfaces. Jetting also provides for the indelible application of full-color graphics, text and digital tracing information on any part surface.
FULL-COLOR FUNCTIONAL PRINTING
Indelibly apply graphics and text to parts to include QR codes, part numbers, instructions or safety warnings.
EASY TO USE, FASTEST TIME TO PART
Minimal, clean pre- and post-processing.
SAFE MATERIALS AND PROCESS
People safe, environmentally friendly and recyclable.  Suits office, production and field use.
BEST-IN-CLASS Z-STRENGTH
Ideal for functional prototypes, tooling and service parts.
DIGITALLY AUGMENTED PARTS
Text, images and QR codes for traceability, built-in trust and IP controls.
LOWEST COST OF OWNERSHIP
From initial investment to operational costs; a trained technician is not required.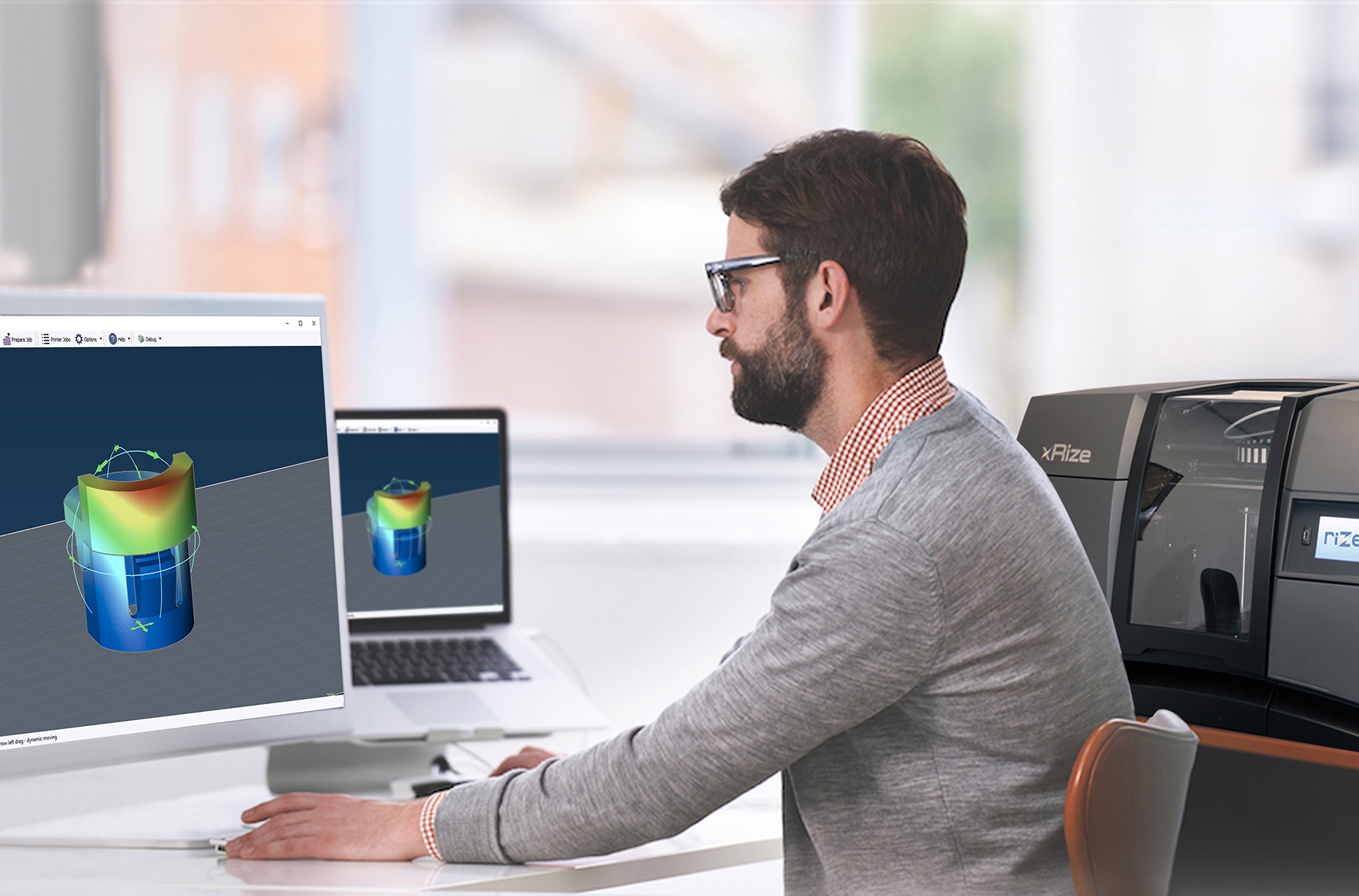 MEET THE

XRIZE

Enhancing traditional and fiber-reinforced polymer RIZIUM™, RIZIUM™ CARBON and RIZIUM™ ENDURA with color inks, XRIZE addresses the needs of manufacturing, packaging, AEC, consumer product, and many other industries. Powered by the patented Augmented Deposition process, XRIZE combines strength, color, and ease of use in one platform.

XRIZE enables users to manufacture functional thermoplastic parts in full, voxel-level color. Providing a safe, clean process, minimal pre- and post-processing and minimal material management, users throughout the enterprise can use XRIZE to easily manufacture full-color parts for FEA and stress analysis, tooling with safety instructions, end-use consumer products such as eyewear, package design, GIS mapping, realistic anatomical parts for patient/clinician communication, pre-surgical planning and education and parts for marketing and entertainment in an office, on the production floor or in the field.

XRIZE leverages RIZE's hybrid Augmented Deposition process by extruding our proprietary compound of engineering-grade thermoplastic and simultaneously jetting C, M, Y, K (cyan, magenta, yellow and black) inks through industrial printheads wherever they are needed to achieve the full-color part. Release Ink is jetted between the part and its automatically-generated supports to enable the user to quickly peel the supports away from the part, leaving a smooth surface finish and eliminating the need for additional finishing. With RIZE OneTouch software, users can quickly and easily apply text, images and texture maps to monochrome part files or import color CAD files.
The Details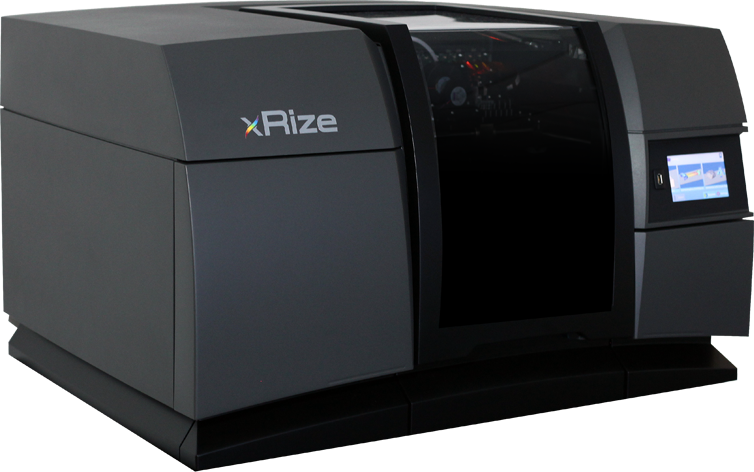 Full-color Functional Printing
Digitally Augmented Parts
Lowest Cost of Ownership
Easy to Use
Safe Materials and Process
Best-in-class Z Strength
Device Dimensions
Height: 21.4 inches (535mm)
Width: 36 inches (915mm)
Depth: 25.4 inches (647mm)
Weight: 137 lbs (62kg)
Power
Build Volume
X: 12 inches (310mm)
Y: 8 inches (200mm)
Z: 8 inches (200mm)
Materials
Filament Capacity: 2X 820g spools with hot-swap; 1640g total
Fluids Capacity: 5X 120mL cartridges; one each Cyan, Magenta, Yellow, Black, Release Agent
Filament Usage: 10.25 grams/hour on average; geometry dependent
Fluids Usage: 1 mL/hr per cartridge on average; geometry dependent