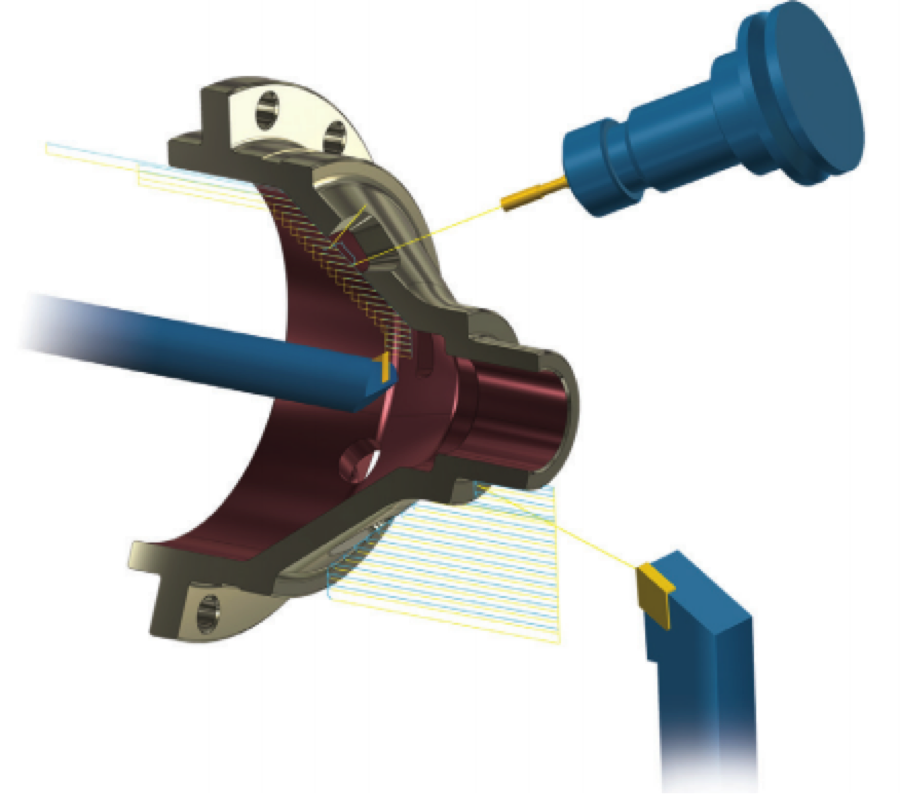 Mastercam Mill-Turn makes machining on today's high-powered turning centers and full-function machining centers simpler and easier than ever before. These machines eliminate multiple setups, manual part handling, redundant fixturing, and reduce idle time—boosting production and maximizing fitability.
Center Support and Tailstock Operations
With the support for center tools, you can now create a Center Point toolpath, which is used when you need to mount a center tool in a turret and engage the tool for live center support.
And, you can now create Tailstock Operations to quickly create a set of operations to load a center tool, move to stock clearance and, if applicable, advance the quill. The available tailstock options differ depending on the selected machine. You can also create a set of tailstock operations to retract the quill and tailstock, and unload the center tool.
Mastercam now supports center tool definitions. Now, when creating a tailstock or Center Point toolpath, the center tool will display in the graphics window.
General Enhancements:
You can now chain geometry on multiple planes, similar to Lathe chaining. All features can be toolpathed on multiple sides in one operation.
Edit common parameters is now available in Mill-Turn.
If you import an operation, Mastercam will check for the Work Coordinate System (WCS) of the operations.
Job Setup Enhancements:
You can now select Enable Right Spindle or Enable Left Spindle when you want to use the second spindle for a stock pull.
Manually Define Right Spindle Stock can be selected to choose the stock for the second spindle, which is the stock that shows in simulation when it is launched. This entity can be derived from a stock model that reflects the initial spindle's operation.
You can now use STL models to define stock.
Ability to machine different parts on the left and right spindles.
Tool Locators for B-axis Heads
Mastercam 2018 now includes support for tool locators for B-axis heads. Spindle tool locators enable proper positioning of tools in the B-axis head. This support greatly improves collision detection and gives a clear representation of how the tool is mounted in the machine. Additionally, multi-station tool locators are supported which allows for realistic simulation of machine tool change motion. Instead of moving all the way to the tool change position, the spindle can move to any point you specify, index the locator, and quickly get back to cutting. These new locators are fully utilized in collision detection, including all tools mounted in the locators, regardless of which tool is currently cutting. The Tool Setup Manager also supports spindle tool locators.
For more information on Mastercam Mill Turn, please click the button below.