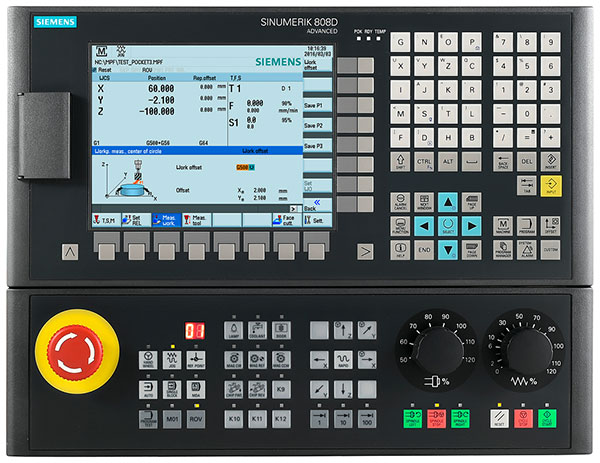 Mastercam recently announced the release of a new post processor developed with the technical expertise of Siemens CNC engineers. Introducing a 3- and 4-axis post processor for Mastercam Mill that supports the SINUMERIK 808D Control.
Mastercam's 3-Axis and 4-Axis MILL POST PROCESSOR for the SINUMERIK® 808D Control adds the power of Mastercam to the capability of this popular machine. This post processor package includes:
CYCLE 832 Support for High Speed Settings
Work offset support matching control capabilities
808D optimized Drilling Cycles (CYCLE 82, 83, 84, 85, 86, 840) with full 4-axis support
Numerical tool call with offset D#
TOFFR functionality to support cutter compensation wear strategy
Optimized Multiaxis toolpath using the FGROUP and FGREF commands
A Siemens application guide
"The development of this new 3-axis and 4-axis post for Mastercam 2019 and the markets that need the 808D Control demonstrates our ongoing relationship with Siemens, to bring the highest productivity gains to machine tools. This partnership began more than two years ago with the release of our 3-axis milling 828D/840D post processor for Mastercam 2017," says Post Department Manager Pedro Sanchez, Jr., of CNC Software, Inc.
It is cooperation like this that provides Mastercam users the opportunity to truly complement their CAM investment and give their shops the best chance at a more efficient manufacturing solution, from design to part.
Chris Pollack, Virtual Technical Application Center Manager, Siemens Industry, Inc. comments,
"With a strong continued collaboration, we're able to optimize product performance for both the Mastercam software as well as the SINUMERIK control. This allows our mutual customers to achieve the very best out of their resources." Pollack continues, "Seeing what we've already been able to accomplish, Siemens looks forward to continuing to help Mastercam create more advanced post processors in the future."
Contact us today to learn more about this new post processor by clicking the button below.