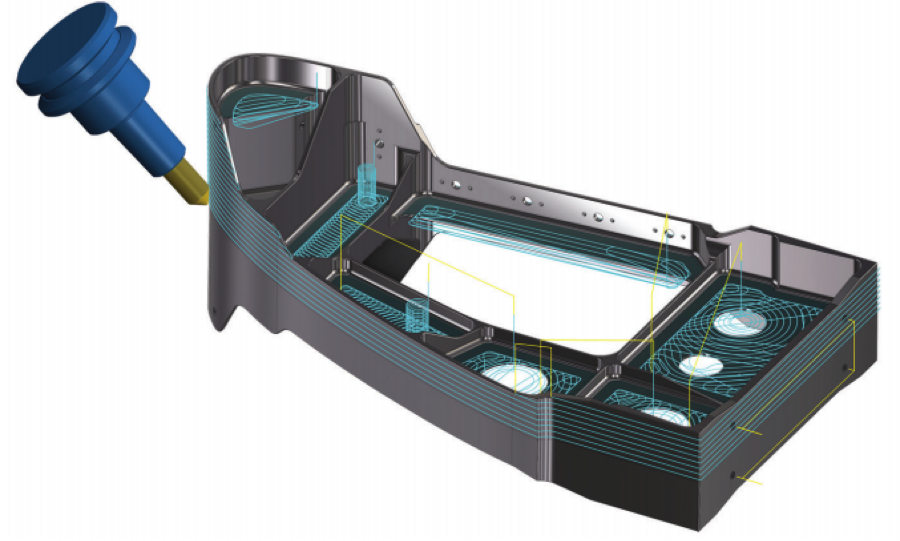 Mastercam 2018 for SOLIDWORKS delivers many new features to keep your shop running at peak performance. All of the Mastercam Mill and Lathe toolpath improvements are also included in Mastercam 2018 for SOLIDWORKS, as well as the following enhancements.
In Mastercam 2018 for SOLIDWORKS, Face center points were introduced and were tied to Center points. Now, Face center points and Center points are independent of each other. You can use the Make Center Point option to create a single point in the middle of the Bounding Box and/or use the Make face
center points option to create points at the center of each face.
New Router Support
Mastercam 2018 for SOLIDWORKS introduces support for Router, including Saw toolpaths, Block Drill toolpaths, and more. All specialized Router toolpaths are available through the menus once you activate a Router machine.
Automatic Toolpathing (ATP) automates the process of assigning toolpaths to geometry for recurrent parts using a machining strategy. A machining strategy contains one or more level names that are associated or mapped to Mastercam operations. Create your operations library, read your part files, create your strategy, pick your cut list, and then begin cutting your toolpaths.
Block Drill toolpaths take advantage of the capabilities of a drill block or gang tooling. During a Block Drill operation, Mastercam for SOLIDWORKS selectively drops different drills depending on the holes that need to be drilled. Use the different drills on the drill block to automatically drill several holes at the same time, or mount different size drills in the block and have Mastercam for SOLIDWORKS drop the proper drill for each hole.
Saw toolpaths are used to drive a saw blade cutting along a straight line. You can program multiple saw cuts using a single tool plane in a single operation.
And, with Mastercam for SOLIDWORKS Router, you can also create door and stair geometry.
For more information on the full line of Mastercam products, please click the button below.