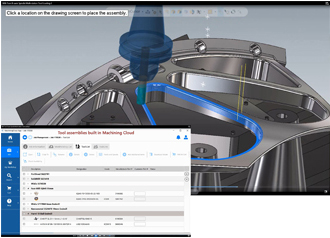 Searching for up-to-date, accurate tooling data can be a tedious, time-consuming task for CAM programmers. A myriad of websites, catalogs, and other sources are available for the task, but typically require manual entry methods that may result in data inaccuracies as your NC program takes shape. Every tooling manufacturer offers their own approach to making their product data available. It's not only up to the user to find out if a tool is in stock, but equally important to ensure that its associated data files are comprehensive enough to get the job done right in Mastercam.
The MachiningCloud application in Mastercam 2018 streamlines the entire experience, letting you quickly sift through its own cloud-based, digitized manufacturer catalogs with the latest inventory availability. Participating tooling manufacturers offer their product data through MachiningCloud, taking advantage of its dynamic search capabilities to narrow down tooling possibilities according to a product's specifications. A growing list of manufacturers are already onboard, including the Kennametal Group, the IMC Group (Ingersoll, Iscar, TaeguTec), Mitsubishi, and others.
With MachiningCloud's native, cloud-based CAD and 3D viewer capabilities, users can review 3D models, build digital tooling assemblies on-the-fly, and package them into a single source, readable file format for use in Mastercam. Everything from the latest tool geometry to feeds & speeds data is ready for import and continuously updated by MachiningCloud. MachiningCloud acts as an automated, intelligent advisor that compares manufacturer recommended product data to your machine's specifications, alerting users to tool fitting and mounting, projection lengths, and more. Both MachiningCloud and Mastercam work together simultaneously, resulting in a new, transformative approach to handling tooling data.
For more information on the MachiningCloud application in Mastercam, please visit the MachiningCloud Mastercam Connection page,  or review CNC Software's white paper titled, "Concise, up-to-date tooling data using the MachiningCloud application in Mastercam".