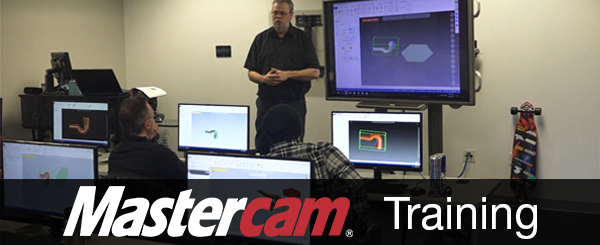 Why not start the new year with some Mastercam training? With new versions coming out every year it can be very difficult to keep up with all the latest enhancements and improvements without occasionally taking some training classes. Cimquest has you covered with many different topic, date, and location options. Over the next couple of months we have several classes to pick from. Please see below for the available options. And don't despair if your desired class is not being offered in your desired location. We have a constant stream of class options in all of our office locations. Just click the button at the bottom of this article for more dates and details.
Mill Essentials 
Feb 6-9, Windor, CT
Feb 12-15, Harrisburg, PA
Feb 12-15, Butler, PA

Our Instructor will mentor you in the basics of Mastercam icon functions, geometry and tool path creation that will lead to you to programming many different parts from start to finish. You will learn the foundational principles of basic 2½ axis tool paths and build upon them by programming many real world examples to develop your abilities. You will be able to create and work with basic 2D wireframe and then import and manipulate Solid models for tool path creation in drilling cycles, advanced pocketing, helical entry and the use of dynamic milling. Last you will be able to program rotary axis substitution and index units.
---
Mill 3-Axis
Jan 10-11, Harrisburg, PA
Jan 29-31, Sterling, MA
Feb 12-14, Branchburg, NJ

Learn to create and edit complex surfaces and curves, and then machine them using a variety of efficient toolpaths. Single and multiple surface machining is discussed. Other topics include pencil tracing, gap settings, tool boundaries, and drive surfaces.
---
Mill 5-Axis
Jan 25-26, Harrisburg, PA
Jan 29-30, Branchburg, NJ
Feb 5-6, Sterling, MA
Learn simultaneous 4 & 5 axis machining operations, including flowline and swarf toolpaths, multi-surface techniques, and 5 axis drilling.
---
Lathe Essentials 
Jan 24-25, Branchburg, NJ
Jan 24-25, Butler, PA
Feb 14-15, Windsor, CT
Feb 22-23, Harrisburg, PA

Learn Mastercam tools and techniques specific to CNC lathe operations. Get in-depth information regarding lathe toolpaths, including facing and grooving operations, stock transfer, and an introduction to C-axis machining. Learn how to use lathe tool libraries, create new tools, and use those tools to quickly and accurately turn new components.
---
Advanced Lathe
Jan 23-24, Sterling, MA
Our Instructor will mentor you in moving forward beyond simple 2 axis turning and into Mastercam's dedicated toolpaths for machines with live tooling capabilities. Topics will include 2D and 3D geometry creation and manipulation, Setup and use of planes and axis combinations, and the use of Mastercam's "Cview utility" for accessing more advanced milling tool paths.. The course will round out with an introduction to advanced part handling (i.e. – pickoff/cutoff & part transfer operations) and an introduction to custom tool definition for turning and milling.
---
Wire
Jan 22-23, Branchburg, NJ and Sterling, MA
Learn the basics of the Mastercam CAD and drafting tools, as well as the tools and techniques specific to creating and managing efficient wirepaths. 2-axis contour and 4-axis synchronization, multiple contour, custom lead-in and lead-out, tab creation, and verification are some of the subjects discussed.
Please click below to see the full list of training dates, more details on the training options, and/or to register for a class.