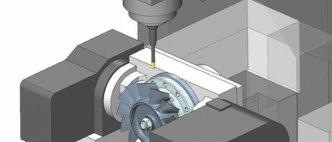 To combat the restlessness many of us are feeling right now, Strategic Technical Specialist Karlo Apro recommends keeping busy. "Most of us are stuck at home right now, but on the other side of this pandemic, shops will be busier than ever. We will all be trying to make up for lost time. It would be smart to use this downtime to 'sharpen our tools', including our brain, by taking another look at something that we may have overlooked in the past," suggested Apro.
Apro invites Mastercam users to explore their simulation toolbox during this time, something that often gets overlooked. "CNC programmers are notoriously pressed for time. As a result, we don't often stop to consider what a valuable programming tool simulation is. It can help you experiment with different manufacturing strategies toward the most efficient process."
Simulation is not only for finding errors in the code. This is a tool to make clean, efficient, and accurate programs every time. With simulation, different approaches and different cutting techniques can be tested on different machines, all without leaving your computer. "And there is no need to tie down a machine for prove-outs," said Apro. "Nobody likes to see an expensive 5-axis machine sitting idle while programs are being tested."
With machine simulation, the cutting process is shown on a virtual replica of your specific machine. This test will ensure that the program contains the most effective cut, the part is located in the machine's "sweet spot," and no fixtures, tools, or any machine components will meet unexpectedly.
Experimenting with simulation can allow you to eliminate multiple setups and redundant fixturing, keep tools as short as possible to improve part quality, convert old recurring jobs to the latest cutting technology (like Dynamic Motion), and even verify new jobs so that they are ready when work picks up again.
Overall, simulation will help you get the most out of your available equipment and save you money in the long run. Apro asserted, "Improved efficiency could save you from buying additional equipment."
The process of setting up machine simulation is very similar to setting up a real machine. The part must be placed on the machine in the correct orientation, and then the Local Coordinate System needs to be set relative to the Machine Zero Position. Next, the tools need to be loaded into the magazine and the Tool Length Offsets must be set correctly.
With Mastercam, this usually takes only seconds. Tools can be downloaded directly from your Tool Library. Once the part, tools, and toolpaths are loaded, the simulation is ready to be run, either as single blocks or continuously. The simulation can be slowed down or sped up, and the model itself can be dynamically rotated.
The simulation will signal if there is a near-miss or collision between any configured components. It will also display an alarm if the limit switches are hit by over-traveling on any of the motion axes. You can even see through models by making them invisible, allowing closer examination of the cutting process in ways that aren't possible on a real machine.
By using the time that you may have at your disposal now, you can refine and improve existing projects—even prep for new ones—to get the most out of your jobs that are coming later.
For more information on Mastercam Mill, please click the button below.