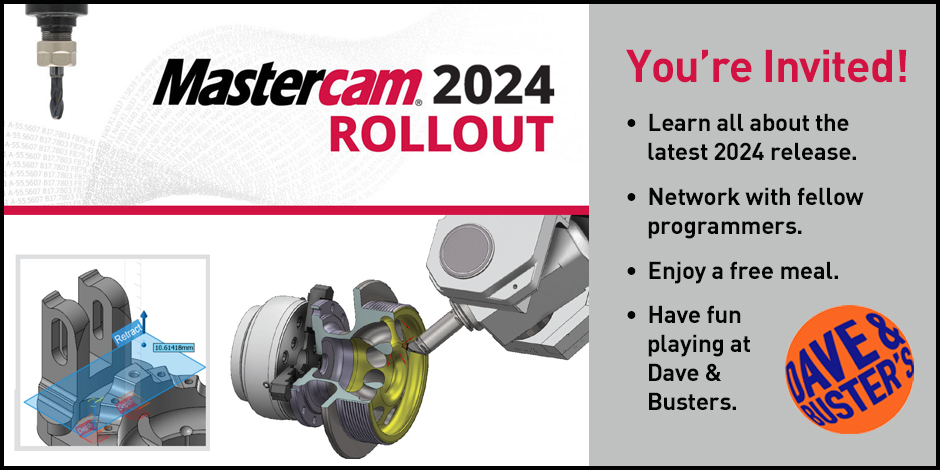 The release of Mastercam 2024 is right around the corner and it's time for you to start planning to attend one of our Mastercam 2024 Rollout events. This year all of our Mastercam Rollout/update events will take place at a Dave & Busters! Don't miss this fun opportunity to learn all about the latest release, network with fellow Mastercam programmers, and enjoy a great day out with free food and games.
Mastercam 2024 will contain many exciting new features including automation and CNC programming flexibility enhancements, as well as expanded support for unique machine configurations and tooling. Here is a sneak peek at the top ten new features in the new version that will greatly improve your programming experience.
The New Gview Cube
Color Assignments for Multiaxis Toolpaths
B-Axis Contour Enhancements
NEW Process Hole Utility
Deburr Enhancements
Support for Angled and Aggregate Locators
Visual Linking for Holemaking Toolpaths
Auto Select Stock Models for Verify
New Options for Loading Default Parameters
Maximize Engagement for Dynamic Mill
At these midday events you'll have a chance to:
Sit in on an extensive "Mastercam 2024 What's New" presentation and also learn some helpful tips and tricks.
Enjoy a delicious buffet-style lunch with unlimited, coffee, tea, and soda, in addition to a game card, so once the learning is done, you can have some fun!
Learn about Metal Additive and how it could impact you, including a discussion of Meltio, a Metal 3D Printer that uses metal filament wire like you would for other manufacturing processes.
Enter our raffle to win great prizes!
DATES & LOCATIONS
Each event will be taking place 10:00 AM – 2:00 PM. Register today and be one of the first to experience the next generation of Mastercam!
| DATE | LOCATION | REGISTRATION |
| --- | --- | --- |
| June 21, 2023 | Dave & Busters, Palisades Center Dr, West Nyack, NY 10994 | REGISTER HERE |
| June 22, 2023 | Dave & Busters, 500 W Germantown Pike #2195, Plymouth Meeting, PA 19462 | REGISTER HERE |
| June 28, 2023 | Dave & Busters, 1235 Worcester St Ste 3201, Natick, MA 01760 | REGISTER HERE |
| June 29, 2023 | Dave & Busters, 100 Buckland Hills Drive, Manchester, CT 04661 | REGISTER HERE |
| July 11, 2023 | Dave & Busters, 6260 Northway Drive, Pittsburgh, PA 11958 | REGISTER HERE |
| July 19, 2023 | Dave & Busters, Fair Oaks Mall, Fairfax, VA 22033 | REGISTER HERE |
| July 20, 2023 | Dave & Busters, 701 Lynnhaven Parkway, Virginia Beach, VA 23452 | REGISTER HERE |