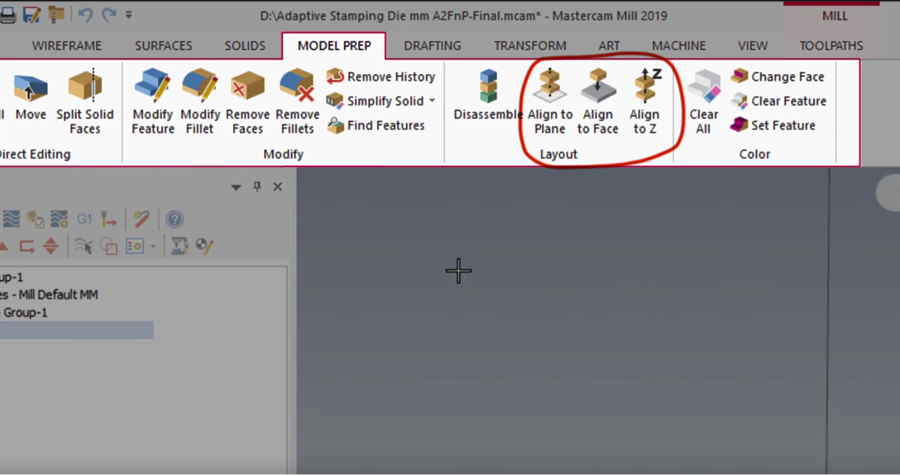 In Mastercam 2019, three functions have been added to the Model Prep tab: Align to Plane, Align to Face, and Align to Z.
Align to Plane lets you quickly prepare a solid body for machining by positioning it in line with a specific plane. You can move the solid and additional selected geometry to align with an existing plane. You can also create a new work coordinate system (WCS) based on a selected face of the solid. This is helpful when you must align a solid to an entity that must remain in a particular orientation.
The Mastercam function, Solid Position, has been renamed Align to Face and has been enhanced to make it easier to use. You can still easily mate the selected faces of two solids, but with the improved Align to Face, you can also align the edges of the solids that you mate. Choose any linear edge on the solid to be moved and it aligns to the X-axis of the gnomon. Then, after placing the solid on the target body, pick a linear edge to rotate the moved solid perpendicular or parallel to it.
Align Solid Body, which was previously on the Turning tab, has been renamed Align to Z and is now located on the Model Prep tab. Use Align to Z to select the cylindrical face or edge of a solid body and either create a new WCS or align the solid body to the Z axis of the current Cplane, as if you were mounting it in a lathe chuck. Align Solid Body has been enhanced to allow you to select additional geometry to move along with the selected solid body.
Please be sure to sign up for our 2 Minute Tuesday video series to receive tips and tricks like this one in video form every week. More info at the button below.