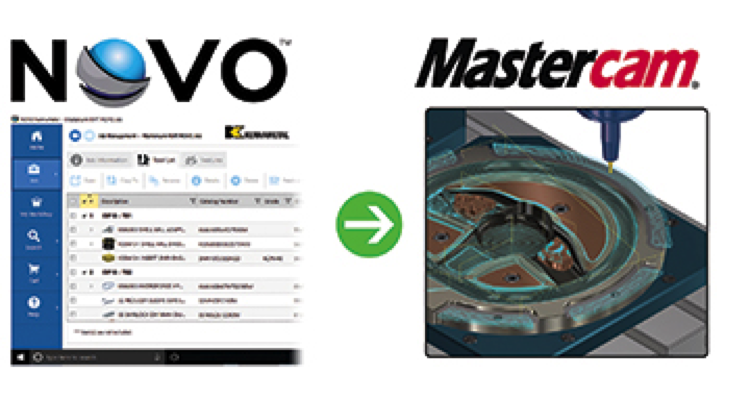 CNC Software, Inc., the developer of Mastercam, has partnered with Kennametal to provide customers with the ability to quickly import tool assemblies from NOVO directly into Mastercam 2018. The integration of NOVO allows Mastercam customers to save significant time searching for desired tools and building 3D tool assemblies that can be brought directly into Mastercam for easy use by most shops.
Mastercam developers worked closely with Kennametal to let users import 3D tool assemblies directly into Mastercam. Features such as automated filtering ensure that the holders and tools that are selected can work together for the particular job. Users of Mastercam benefit from having the correct tooling for the material and for the type of machining operation, plus an accurate 3D model that can be used for visualization and collision checking in addition to the time savings. Bring in Kennametal tool assemblies, validate them, and save them in your Mastercam file and/or Tool Library.
"Customers had to search through thousands of catalog pages and cross-reference multiple sources to create the Kennametal tool assemblies needed to machine their parts," says Rich Taft, Product Owner for CNC Software. "Accurate tool definitions can be a critical factor in modern CAM applications. Toolpath algorithms take advantage of these definitions to provide safe and efficient motion. In addition, the models that we import from NOVO help us to generate accurate in-process stock models that can be leveraged in subsequent operations. Customers can also make use of these models in Verification and Machine Simulation to catch programming errors before the program ever gets to the machine tool."
Mitch Benko, Director, Virtual Machining for Kennametal says, "The pre-production phase of the manufacturing process is a critical point to provide efficiencies and set the stage for a smooth manufacturing run. By partnering with Mastercam, NOVO will enable users to connect and import product information, 3D models, drawings, and starting parameters to expedite the validation and programming processes. By tapping into Kennametal's digital product data and knowledge, Mastercam with NOVO will eliminate the misapplication to tooling solutions, provide optimal machining strategies, and increase productivity with better quality in the manufacturing environment."
NOVO is a suite of powerful digital tools with all the assets you need in one place to efficiently simulate processes, with reduced setup time and increased accuracy. NOVO provides seamless tooling data transfer for easy use by shops into CAM software.
For more information on the Mastercam products, please click the button below.