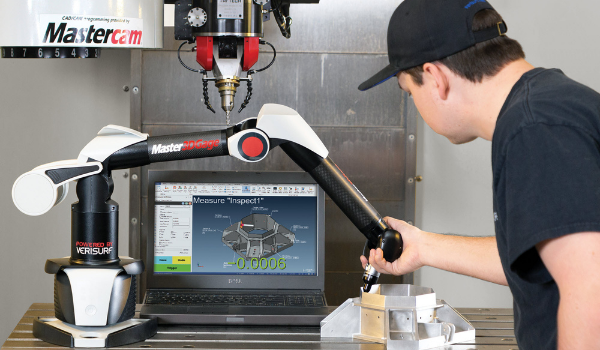 Today's manufacturers want and need more seamless integration between design, build, inspection, and reporting. They need a more complete design-build solution. These solutions must be clean with continuity of data and support for downstream applications.
Verisurf Software has been a Mastercam strategic partner for 25 years, delivering customers quality inspection, reverse engineering, toolmaking, and assembly guidance solutions, all built on top of the Mastercam platform. When Verisurf is activated, it appears in the ribbon bar of Mastercam. This provides a completely integrated user experience for customers to go from Reverse Engineering to CAD to CAM to CAI all on the same software platform.
Verisurf customers range in size and scope, from the largest aerospace, defense, automotive, energy and industrial OEMs and their global supply chains, to large and small job shops. For these customers, quality inspection and other measurement applications are quickly moving in the direction of model-based definition (MBD), which is at the core of all Verisurf solutions. When employing an MBD strategy, the CAD model is the inspection nominal to which all parts are measured and inspected against. MBD keeps the all-important digital thread intact, closing the loop on design to manufacturing to inspection and quality reporting.
Should a part need to be manufactured in the future, everything that defines the part exists in a single digital archive, including the intelligent CAD model, machining toolpaths, nominal GD&T data, and a complete inspection plan to verify finished parts. Comprehensive deployment of MBD in manufacturing can go far beyond this example to include all attributes of a product necessary for complete Product Lifecycle Management (PLM) using Digital Product Definition (DPD). However, basic MBD is a good place to start and will provide constant improvement for shops committed to quality processes and lean manufacturing.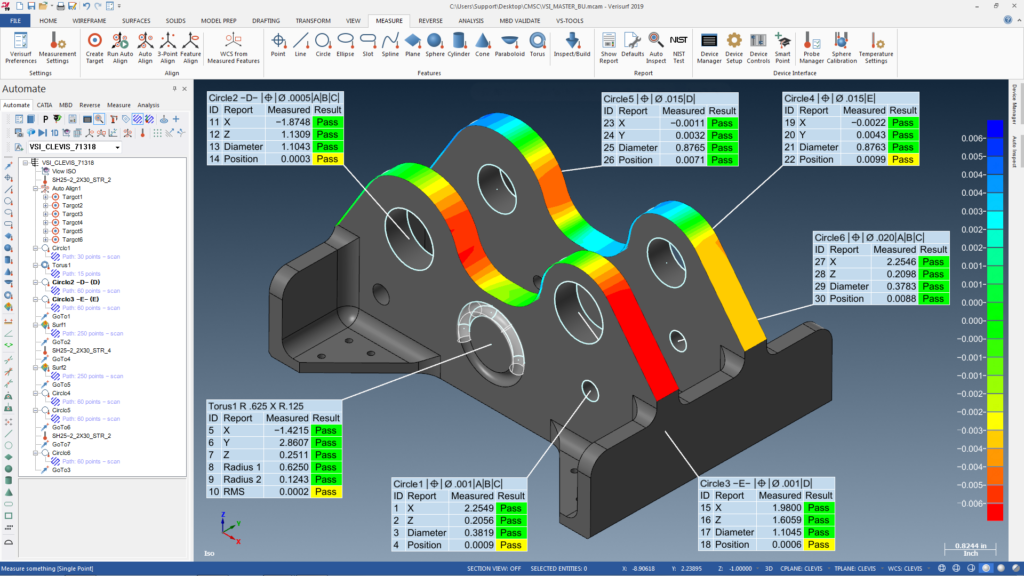 In fact, many industries including aerospace and automotive are requiring vendors to be MBD compliant in order to maintain digital continuity across all design and manufacturing assets.
Quality inspection and reporting used to be a disparate process isolated in the quality lab. Today, it is much more integrated with the shop floor through in-process inspection. The push by manufacturers to become leaner and integrate dimensional metrology drives the need for open standards and interoperability. This starts with deployment of an enterprise inspection software and extends to all coordinate measuring machines (CMMs) and accessories.
Verisurf, with its commitment to the Mastercam platform, gives customers the ability to import from, manipulate, annotate, model, inspect against, and export to virtually any CAD file format. At the end of the day, it is the job of inspection software to align and compare the nominal CAD model with measured points collected from the finish part, whether that includes a relatively small number of manually triggered contact points, or non-contact scanned point cloud data containing hundreds of millions of points.
Most shops require a variety of CMMs and accessories, depending on the size, weight, and shape of parts being inspected or reverse engineered at any given time. The goal is for all the devices to interoperate with a single software, which improves productivity and reduces training and maintenance costs.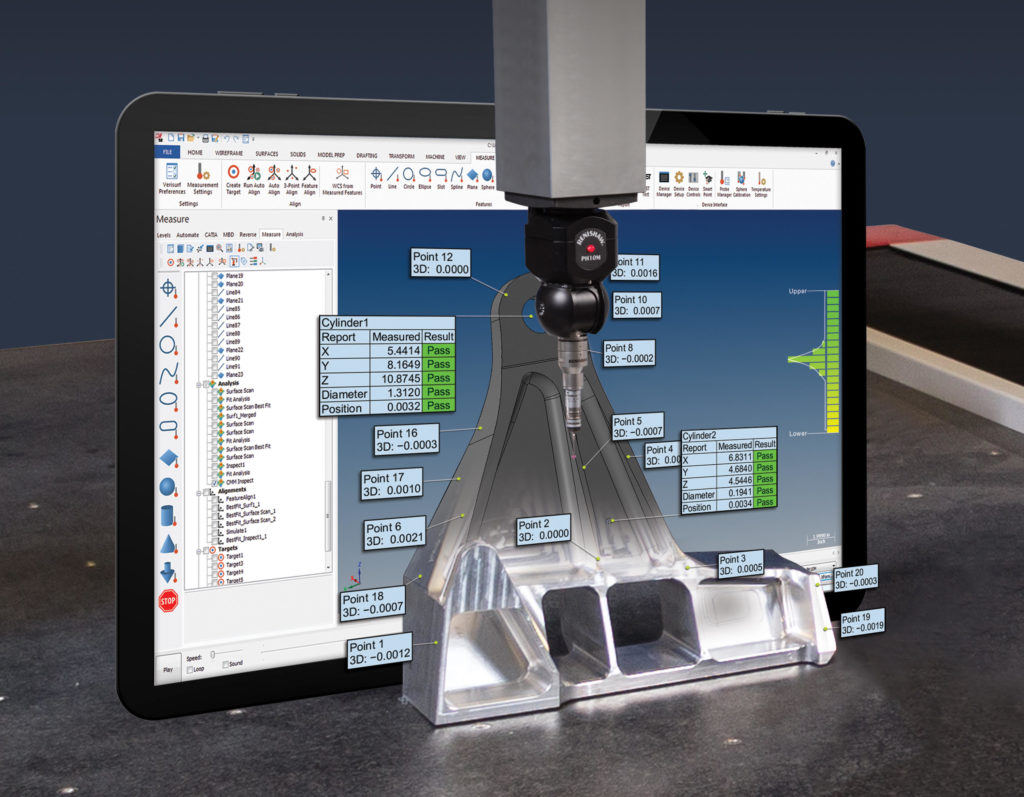 Verisurf supports and drives virtually all fixed and portable CMMs, trackers, and 3D scanners in use today. Some older and larger fixed CMMs still have closed proprietary controls and communication protocols, but Verisurf is able to communicate with them using its Universal CMM compatibility bridge. This effectively opens every CMM across the manufacturing enterprise to use Verisurf, built on Mastercam, as a single measurement and inspection platform.
Verisurf on the Mastercam platform provides customers with the consistency of operation, quality reporting, data management, reduced training and support costs, in addition to other benefits:
Verisurf is built on the Mastercam platform, including 3D modeling.
All CAD files import and export seamlessly with Verisurf.
Intelligent GD&T datums can be edited or added to support model-based inspection plans.
Verisurf software supports and drives all CMMs, new and legacy.
Verisurf has embedded tools to all inspection data, from manual contact probing to non-contact point clouds.
With an ever-increasing surge towards manufacturing 4.0 concepts, today's manufacturers need interoperability and digital continuity from systems and processes. Mastercam software with Verisurf activated greatly expands the overall value footprint from CAD/CAM to include Scanning, Reverse Engineering, Inspection and Reporting, Tool Building, and Assembly Guidance.
For more information on Verisurf, please click below.
For more information on Mastercam, please click below.