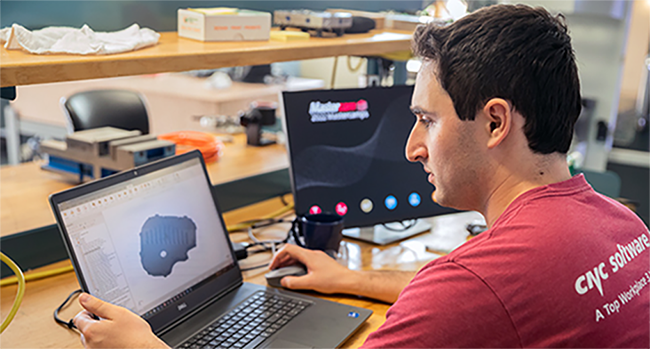 As more and more shops adopt multiaxis practices, Mastercam has invested more in improving their Multiaxis product. Explore these three new Mastercam 2024 Multiaxis tools, created with users like you in mind.
Colored Selection Display Multiaxis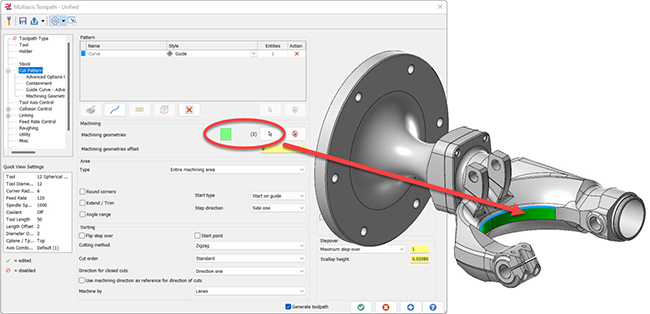 In Mastercam 2024, many geometry selections are now viewable in the graphics screen immediately upon entering a multiaxis path. Things like Machining geometries, Collision Control selections, and Pattern entities are colored and presented to the user depending on the page they are on and the preview control settings they've chosen. Similar to 3D HST geometry selection, all non-selected surfaces are colored in the white "remainder" color.
Users do not have to enter the selection step of a specific area of the toolpath to understand what selections the toolpath is using to calculate with. All selections are color-coded with the type of selection and presented all at once on the graphics window while the user is editing a toolpath, reducing time going in and out of selections to verify proper selection.
Unified Straighten Cuts on Boundary
Enabling straighten cuts on boundaries will allow Unified Guide to deviate when necessary, from a constant stepover to preserve the pattern shape relative to the initial curve input. These results more closely mimic what a user might expect from a Parallel cut pattern.
Deburr Enhancements
Last year, Mastercam 2023 introduced the ability to cut with the flank of the tool. For Mastercam 2024, those controls are now consolidated into a drop-down menu where the user chooses whether to cut with the tip or the flank of the tool. If the user chooses to cut with the flank, the percentage option will appear. With this option, you can now specify the contact percentage along the flute.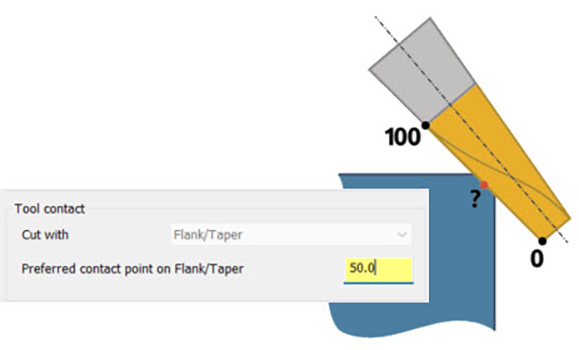 Deburr now supports all the following tool types:
Ball End mill
Lollipop mill (supports undercut)
Bull End mill (supports cutting with flutes, not bull radius)
Corner Chamfer End mill (supports cutting with flutes, not corner chamfer)
Taper mill
Dove mill (supports undercuts)
These are just a few multiaxis enhancements in Mastercam 2024. Learn more about Mastercam 2024 by clicking below.