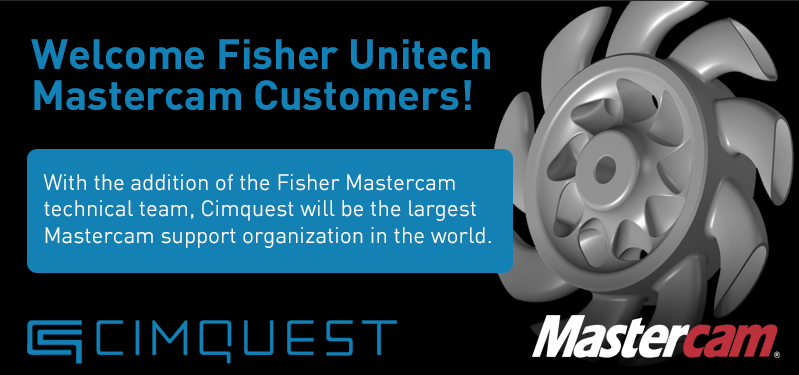 Big News from Cimquest . . .  We Have Expanded our Mastercam Team (and Customer Base)
We are very excited to announce that our Mastercam support team and customer base have significantly grown. Cimquest and Fisher Unitech have engaged in an exchange of service between the two companies and Cimquest will now be supporting the Fisher Unitech Mastercam customers. Additionally, Cimquest Stratasys customers will be supported by Fisher Unitech. Fisher Unitech will no longer be representing Mastercam and Cimquest will no longer be representing Stratasys.
We would like to welcome Brian Brown, Tony DiSanto, Chris Jepson, Andy Lowry, Todd Patterson, Jeff Reiser and Mike Steelman to our Cimquest team. We are excited to have such a strong team of Mastercam experts to add to our world-class talent who together will offer unparalleled support, consulting and training services to the manufacturing community. With the addition of the Fisher Mastercam technical team, Cimquest will be the largest Mastercam support organization in the world!
Although Cimquest will no longer be selling and supporting Stratasys products, we now have the opportunity to build a much more diversified 3D printer portfolio to better serve our customers' needs. We are very excited that we are diversifying our 3D Printing focus into other 3D Printer technologies initially representing the exciting new metal 3D printer from Desktop Metal and will be announcing shortly more technology solutions in the 3D printer space. Please stay tuned for more details about that coming in the near future.
"This is truly exciting times for Cimquest as our team continues to grow and our product portfolio becomes more diverse to address the needs of our customers," says Rob Hassold, CEO of Cimquest.